News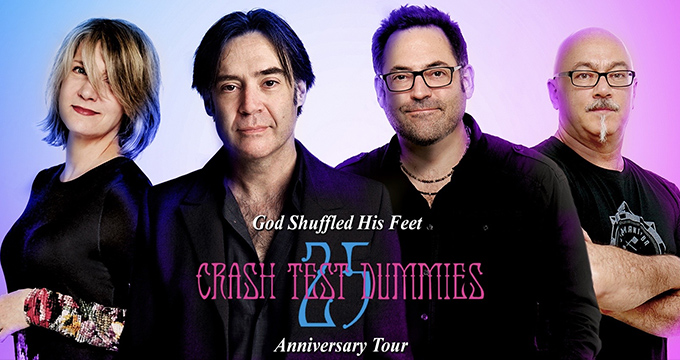 European Tour Update!
Thursday, May 18, 2021
European tour dates that were scheduled for 2021 are now rescheduled to 2022. All purchased tickets will be honoured for the new dates. Follow ticket links for more information.
US Tour Update!
Wednesday, March 25, 2020
US tour dates that were postponed are currently being rescheduled. Check out the tour listings on the right for the new dates moved to September and October. We will continue to update as dates are rescheduled.
NPR's Mountain Stage Broadcast
Tuesday, January 7, 2020
The Crash Test Dummies performance on NPR's Mountain Stage last December is scheduled for broadcast this Friday (Jan 10th). Airtimes and stations can be found
here
.
Tour Dates Announced
Friday, September 21, 2018
Crash Test Dummies reunite for God Shuffled His Feet 25th anniversary tour. Each date will feature a full performance of the album, plus other staples from the band's catalog.
Crash Test Dummies on Instagram
Sunday, September 16, 2018
Crash Test Dummies on Twitter
Sunday, September 2, 2018
Follow us on the official Crash Test Dummies Twitter account
@ctdsband
.
Crash Test Dummies on Facebook
Sunday, September 2, 2018